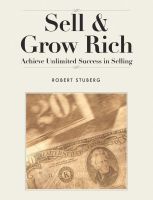 Sell and Grow Rich
by

Robert Stuberg
(5.00 from 1 review)
Selling is the world's highest paid profession. Unfortunately, there are millions of salespeople that don't make much money. How can that be? It's simple really. Here are the two steps for failing in the world of sales: 1. Don't learn the rules of selling. 2. Don't practice the rules of selling. This book will give you the tools you need to "Sell and Grow Rich."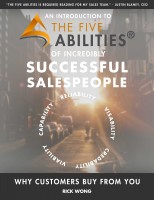 An Introduction to The Five Abilities of Incredibly Successful Salespeople
by

Rick Wong
(1.00 from 1 review)
The Five Abilities® of Incredible Successful Sales People is a guide full of common sales problems that you face daily. It will guide you through challenges that even the most experienced sales people occasionally need help with. • How do you build a successful value proposition? • What does a dream customer look like? • How do you turn objections into the best opportunities you have?
Related Categories