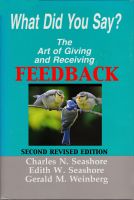 What Did You Say? The Art of Giving and Receiving Feedback
by

Gerald M. Weinberg
This brief and engaging book can be of use to anyone who has to interact with other people. How to offer feedback when asked or hired to do so. Why feedback tells more about the giver than the receiver. How feedback is distorted or resisted by the receiver's point of view and defense mechanisms. And in dozens of enjoyable vignettes, how humans have struggled to understand each others' responses.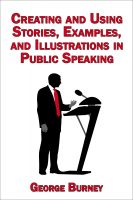 Creating and Using Stories, Examples, and Illustrations in Public Speaking
by

George Burney
Would you like to discover the three keys to giving an unforgettable speech? A speech any audience will pay rapt attention to and will thoroughly enjoy? If so, this book was written for you. It will show you how to create and use illustrations, stories, and examples--quickly and easily. Using them will make your speech a pleasure to listen to.