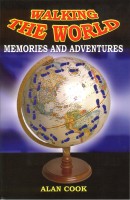 Walking the World: Memories and Adventures
by

Alan Cook
Walking the World: Memories and Adventures elevates the act of walking from something we do every day without thinking about it to a means for putting more fun and excitement into our lives. And we can become healthier, at the same time. Whoever said, "No pain, no gain," was out to lunch.
Bushwhack: A Serial Story of Off-Trail Hiking & Camping in the Pacific Northwest Wilderness
by

Gerald M. Chicalo
Three women, six men, and one dog, set out on a good-intentioned, multi-day, off-trail hiking adventure. Laughing, joking, even flirting with each other, it all starts out so well. Until... well, you'll have to read it to find out. To experience this book as intended, as a serial story, please read only one chapter per day, if you can resist the temptation.