How to Stop the IRS and Solve the Deficit Problem
by

Joseph George Caldwell
How to Stop the IRS and Solve the Deficit Problem proposes elimination of the personal and corporate income tax system in the United States. The book discusses the shortcomings of the present system, from economic, political and sociological viewpoints. A new tax system is developed, using the concepts of systems analysis and systems engineering.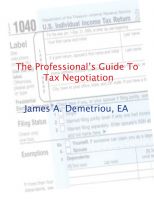 The Professional's Guide to Tax Negotiation
by

Jim Demetriou
TAX PROFESSIONALS ONLY: Many grasp the basics of IRS tax debt resolution. Today, the basics aren't enough. Now learn what 40 years of tax negotiation experience have taught the author. Discover what the IRS knows and what they do NOT want you to know. Know what to say to the tax collector, and more importantly, what NOT to say.