Z Art of Taxes
by

Andrew Stern, EA
(5.00 from 2 reviews)
This book provides super-practical advice to all self-employed taxpayers, based upon my 30 years of hands-on tax preparation work, common sense, logic, and streetwise attitude. Being a musician since age 13 shapes the perspective as well. As Jimi said "are you experienced?" Welcome to the world of calm, cool, and confident! That is, after you digest the information contained within this book.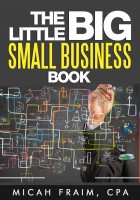 The Little Big Small Business Book
by

Micah Fraim
(5.00 from 1 review)
How do you plan to grow your business this year? Inside of this book you'll discover 17 money making (or saving) lessons that will leave you with more customers, sales, and money in your pocket come tax season. CPA Micah Fraim offers a unique and truly rare perspective on succeeding and growing your small business while maximizing financial savings and gains using tax tactics and tips.