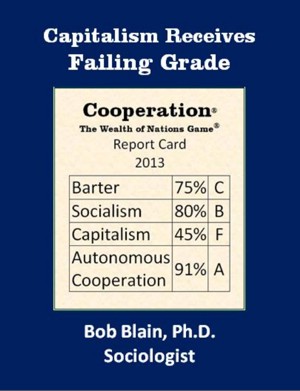 Capitalism Receives Failing Grade
by

Bob Blain
Simulation of barter, socialism, capitalism, and a system called autonomy with Cooperation: The Wealth of Nations Game played and graded by university students in a sociology class results in a C for barter, a B for socialism, an F for capitalism, and an A for autonomy. The game in computer form is available free, so you can examine and judge each system yourself.
TGE : vers The World Company ?
by

Lundi
Quelles sont les conséquences que va entraîner, pour les très grandes entreprises (TGE), le transfert d'activités dont elles vont bénéficier de la part du secteur public ? En premier lieu, la manne financière. En second lieu, un accroissement de taille spectaculaire. Mais quelles seront les activités les plus touchées ? Et pourquoi ?