Apple and Samsung: A Love Story
Apple is a special company. There is no doubt about that. There is much about it that has taken it to incredible heights. The cash hoard, the Apple Stores, the marketing cachet. It all makes for an incredibly dangerous competitor. But every company has a yin to its yang, and for Apple that is Samsung Electronics. In here, we look at this company's fierce push into the smartphone industry.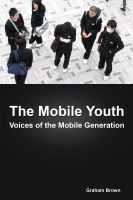 The Mobile Youth
10 Years of research. 10 Stories revealing the emotional relationship between young people and their mobile phones from the world's leading authority of youth mobile culture, Graham Brown. Mobile Youth will take you on a journey through the deserts of Saudi Arabia, the urban explosion of Tokyo, and the dangerous alleyways of Rio di Janeiro.