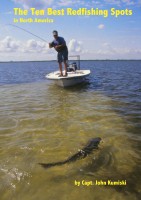 The Ten Best Redfishing Spots in North America
by

John Kumiski
Years of research and travel went into the writing of this little ebook. The author fished with the country's finest redfish guides from Pamlico Sound in North Carolina to South Padre Island in Texas, enduring wind, rain, fog, sunshine, and some excellent food, in order to bring the reader the most up-to-date information on the best places to fly fish for redfish in North America.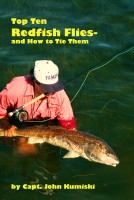 Ten Top Redfish Flies - And How to Tie Them
by

John Kumiski
Do you want to catch redfish on fly? This little ebook, the result of 25 years worth of on-the-water research and observation, shares with the reader ten of the most effective redfish flies available, as well as concise instructions on how to fish them. Fly tiers will appreciate the links to tying instructions. Do you want to catch more and bigger redfish? Read this book!