The Way of the River: My Journey of Fishing, Forgiveness and Spiritual Recovery
by

Randy Kadish
(5.00 from 2 reviews)
This collection of memoirs reflect Randy Kadish's journey of fly fishing and spiritual recovery that began when he admitted his life had become unmanageable. Then, he asked for help and relived the deep pain of his very traumatic childhood. To soothe himself, he turned to fishing. Finally, after an unexpected crisis, he found a way to forgive and connect to the good in the world.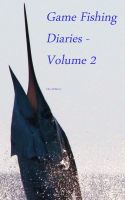 Game Fishing Diaries - Volume 2
by

Chic McSherry
(5.00 from 1 review)
I do like to write, and for the most part some folks do like to read what I write and, since almost all of these stories were commissioned and written for publication in a variety of outdoor and travel magazines it seemed a shame not to expand on them a little bit and package them up into a second volume.
Related Categories