A Passion For Carp
by

Steve Graham
Steve Graham has been an angler for more than fifty years, and for the last twenty-five years he has fished almost exclusively for carp. In this book, Steve tells of all his successes and failures, and all of the people that he met along the way, in a style that almost makes you think that you are there on the bank with him. A fascinating story.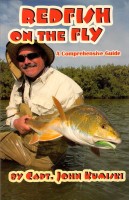 Redfish on the Fly- A Comprehensive Guide
by

John Kumiski
The New, Definitive Handbook on Fly Fishing for Redfish! Do you want to consistently catch redfish with a fly rod? This book is just what you need! In its four all-inclusive sections, Redfish on the Fly shares secrets obtained from these guides: -Gregg Arnold -Bryan Carter -Gary Dubiel -Eric Glass -Greg Hildreth -Joe Shute And many more! This book will make you a better fisherman!