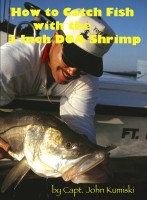 How to Catch Fish with the Three Inch DOA Shrimp
by

John Kumiski
Most inshore gamefish love to eat shrimp, which makes the DOA Shrimp one of the most effective lures you can use. This little books tells you when to use the Shrimp, which colors to use, how to rig it for different conditions, and several different fishing techniques that prove effective. Catch more and bigger fish with the DOA Shrimp!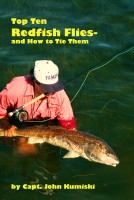 Ten Top Redfish Flies - And How to Tie Them
by

John Kumiski
Do you want to catch redfish on fly? This little ebook, the result of 25 years worth of on-the-water research and observation, shares with the reader ten of the most effective redfish flies available, as well as concise instructions on how to fish them. Fly tiers will appreciate the links to tying instructions. Do you want to catch more and bigger redfish? Read this book!