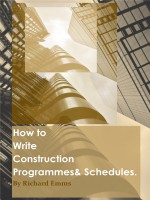 How to Write Construction Programmes & Schedules
by

Richard Emms
This book will help managers in construction to write programmes effectively. With first hand experience the author uses a 'fit out' project to guide you through a series of simple steps from receipt of tender through to the final programme using Asta and Microsoft Project software. The book teaches a logical order that's applied to any project, therefore a 'must' for project and site managers.
Problem Solving: Innovation in 5 Simple Steps
by

H. Evan Woodhead
Problem Solving: Innovation in 5 Simple Steps describes and explains how the problem-solving process can be successfully applied. It places specific emphasis on the challenges of innovation, and clearly shows how and when to leverage the tools and methods described in Anchor Management: Letting Innovation off the Leash and Altered Perspective: Search Strategies for Innovators.
Related Categories