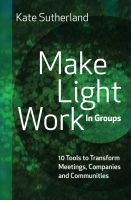 Make Light Work in Groups: 10 Tools to Transform Meetings, Companies and Communities
This book introduces ten tools to revolutionize how we work together - in teams, organizations, companies, and communities. Each of the ten tools brings a unique perspective. Together they are a comprehensive kit, allowing you to create better outcomes in all types of group situations. A handy pocket guide for leaders, managers, entrepreneurs, activists, consultants, parents, and you!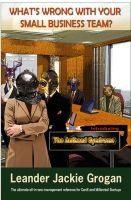 What's Wrong With Your Small Business Team?
After years of driving businesses into the ground, the old drill sergeant management model is dead. Now, veteran business consultant Grogan has shaken up the status quo with the Anthead Syndrome, a groundbreaking system that stretches the traditional entrepreneur into a nimble sky-walker with an array of leadership styles and expansive knowledge of managing ambiguities and case by case scenarios.