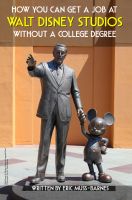 How You Can Get a Job at Walt Disney Studios Without a College Degree
by

Eric Muss-Barnes
Working for Walt Disney is a childhood dream, shared by millions of people, from all across the world. Since the founding of the studios in 1923, only a small fraction of individuals have ever experienced the bliss of making that dream coming true. After working at the illustrious Studio for more than 6 years, author Eric Muss-Barnes shares his story of how that wish-upon-a-star came true for him.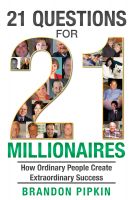 21 Questions for 21 Millionaires: How Ordinary People Create Extraordinary Success
by

Brandon Pipkin
(5.00 from 1 review)
This book tells the true success stories of 21 self-created millionaires in their own words. By interviewing 21 ordinary people who created extraordinary success, Brandon learned: - The four commonalities these millionaires share - The missing ingredient in success - The role of right time, right place in success - The myth of goals, vision, and passion and what advice they would give YOU!