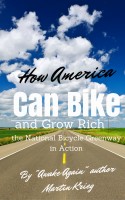 "How America Can Bike and Grow Rich, the National Bicycle Greenway in Action"
by

Martin Krieg
As Martin Krieg works to actualize the Greenway envisioned in 1994 in "Awake Again", this book is set against the national Mayor's Rides we have run since his true comeback story became a book. In this sequel, from the Eagle HiWheel, he shows the fun work we have been doing to make the NBG real, the actual Route and what it's like to ride on it as we celebrate the 17 major cities it passes through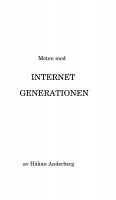 Möten med Internet Generationen
by

Håkan Anderberg
En sak som konfunderat mig under de år jag rest är att den unga generationen skiljer sig så enormt från tidigare generationer. Jag hade träffat dem vid flera tillfällen och jag har en son som föddes 1991 vars uppväxt jag följt på nära håll. Varför denna otroliga skillnad? Kunde det vara Internet, och i så fall, varför? Vad är det som gör att vi har en generation som har så hög empatiförmåga?