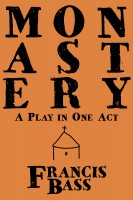 Monastery
by

Francis Bass
In the near future, Academic Campuses offer an affordable, but longer and more intensive, alternative to universities. In this play, the editors of a campus lit journal meet just before the start of summer to finish up the latest issue and celebrate their success. A hypothetical conversation about graduating early and starting up a magazine outside the "monastery" turns into a spirited argument.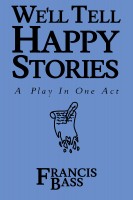 We'll Tell Happy Stories
by

Francis Bass
Boa and Ardom are two refugees posing as ambassadors, who have survived for years pretending that their home country, Choroa, is still perfectly stable. When a royal edict orders that all Choroans must leave the country or face enslavement, Boa and Ardom must reveal harsh truths and spin fanciful stories in order to convince their hosts to allow themselves and their daughter to stay.
Related Categories