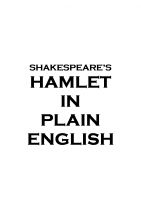 Shakespeare's Hamlet in Plain English
by

C.J. B.
Price: Free! Words: 37,590. Language: English. Published: May 9, 2012. Categories:
Plays
»
Shakespeare
(5.00 from 2 reviews)
In the language of Shakespeare, meaning can seem obscure, its style elaborate and theatrical. This work presents the language of Shakespeare's classic tragedy, Hamlet, in more natural and readily comprehensible English. This may prove of some value for studying, understanding and gaining superior appreciation of, and insight into, the play.
Romeold and Juliancient: Middle Age in the Middle Ages
by

Alec Heilizer
(5.00 from 1 review)
What if the greatest love story ever told, didn't have to end? Romeold and Juliancient is a play in which Romeo and Juliet both survive and are now in middle age and unhappy with both their marriage and their lives in general. All of the characters from the original play return in this new look at an old love story. The Capulets and Montagues clash in sit-com like moments during this comedic play.
Related Categories