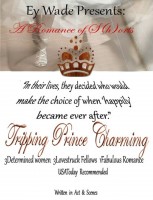 Tripping Prince Charming- A Romance of S{h}orts
by

Ey Wade
Three strong, independent women with no time for romance or girlish notions of knights in shining armor meet their match in three lovestruck men determined to make them believe in Prince Charming and happily ever after.
Mamamorfosis. Las 200 caras de la Luna
by

Aguamarina De mi casa al mundo
Mamamorfosis es la transformación vital que sufre una mujer cuando se convierte en madre. Mamamorfosis es una revolución en la vida de una mujer. Mamamorfosis es un proyecto literario, genuino, honesto, altruista y libre, creado exclusivamente por el trabajo desinteresado y profesional de 200 mujeres de todo el mundo que comparten su historia, convencional o no, como madres conscientes.
Related Categories