Slow Death of Fresno State
The Slow Death of Fresno State: A California Campus under Reagan and Brown looks at the history of Fresno State College (now Fresno State University or California State University , Fresno) in the late 60's and early 70's when faculty was locked out, fired and ethnic studies and La Raza programs were targeted by the administration.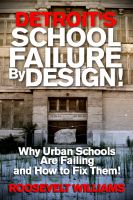 Detroit's School Failure By Design! Why Urban Schools Are Failing And How To Fix Them!
This book explains how Detroit earned its reputation as the worst public school system in the country. It is the story of one man's attempt to teach his students traditional history in a Detroit classroom, and the District's determination to stop him. Detroit officials disapproved of students reading the textbook, preparing outlines, lecturing and requiring students to work to pass the class.