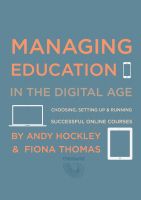 Managing Education in the Digital Age
by

Andy Hockley

&

Fiona Thomas
Increasingly, education is moving into the online world. However, very little has been written on the subject of managing this new online educational world. This book attempts to address this gap for academic managers. It follows the process from the first decision to go online, and pursues that through planning, building, marketing, dealing with teachers, and finally, monitoring the whole.
Slow Death of Fresno State
by

Kenneth Seib
The Slow Death of Fresno State: A California Campus under Reagan and Brown looks at the history of Fresno State College (now Fresno State University or California State University , Fresno) in the late 60's and early 70's when faculty was locked out, fired and ethnic studies and La Raza programs were targeted by the administration.