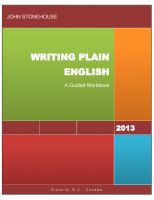 Writing Plain English: A Guided Workbook
by

John Stonehouse
This workbook is designed to help writers and students cut through the fog of wordiness, recognize the intended basics and thereby remove redundancies from their own writing and from that of others. In a nutshell, writers will be encouraged to say what they mean, using as few words as necessary to convey the exact meaning, and avoiding trivial detail and repetition.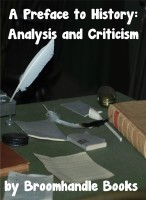 A Preface to History: Analysis and Criticism
by

Broomhandle Books
Carl Gustavson's classic "A Preface to History" provides a fruitful source through which to examine a normative approach to history, debate the nature of objectivity in historical discussion, investigate historical-mindedness as a practical tool and analyze the basic forces that drive history. This paper presents shortcomings in Gustavson's approach to history.