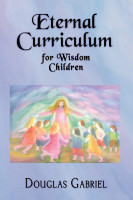 Eternal Curriculum for Wisdom Children
by

Douglas Gabriel
Eternal Curriculum for Wisdom Children gives ideas and suggestions of what literature is appropriate for students and teachers at each grade level, and why we teach a curriculum that is timeless. Once this is accomplished, we can teach an Eternal Curriculum to the etheric body of the child that matches the development of humanity and offers education that nourishes the Wisdom Child.
Education, Curriculum and Educology
by

James E Christensen
What is curriculum? How does curriculum fit with education? What elements does any sound curriculum have? What curriculum issues arise from ambiguity? From value conflicts? What major perspectives have historically shaped curriculum? What knowledge base is available to use in curriculum design?
Related Categories