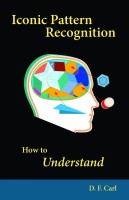 Iconic Pattern Recognition: How to Understand
by

D F Carl
What ideas or subjects have you found perplexing? Math, science, history, music, languages – whatever you study – can be easily understood when you know what "understanding" actually is. But in school we are not explicitly taught the understanding process (even though we are explicitly taught how to memorize!) As a result, understanding can often be hit-or-miss. This book shows how to get a "hit".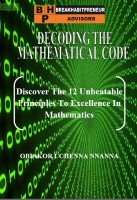 Decoding the Mathematical code
by

Uchenna obiakor
This is a book birth for solving the problem of mathematics that has become an enemy to the bone marrow of the lives of the students in the educational system. It look as if this monster cannot be defeated, but the secret in this book ''decoding the mathematical code'' has unraveled the mystery. Study it, digest it, master it and apply the principle.