Educación: Más allá de las aulas
by

Edistio Cámere
Experiencias de un educador, que aborda un aspecto esencial en la vida humana, como es la educación. Responsabilidad docente; la relación profesor-alumno; la dirección del colegio ante la diversidad; la orientación educativa y la libertad y el vínculo familia-escuela, son algunos de los temas centrales desarrollados en este libro.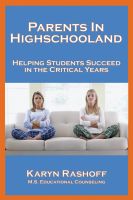 Parents in Highschooland
by

Karyn Rashoff
Author/educational counselor Karyn Rashoff identifies, analyzes and suggests paths to the resolution of the complex and often puzzling interactions that take place during the high school years among parents, teachers, coaches, tutors, school administrators -- and, of course, the students themselves! Her credentials? Nearly 20,000 interviews during a 33-year career in secondary counseling.