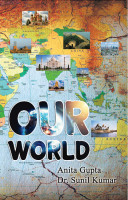 Our World
by

OnlineGatha
It gives us immense pleasure to present this book, though small in size yet large enough in terms of contents. The book seeks to provide the readers a fresh, relevant and up-to-date mirror of an ever-evolving world. General Knowledge is of immense importance to the students growing up in today's fast-paced media savvy generation where a million stories cross our paths daily.
Educación: Más allá de las aulas
by

Edistio Cámere
Experiencias de un educador, que aborda un aspecto esencial en la vida humana, como es la educación. Responsabilidad docente; la relación profesor-alumno; la dirección del colegio ante la diversidad; la orientación educativa y la libertad y el vínculo familia-escuela, son algunos de los temas centrales desarrollados en este libro.