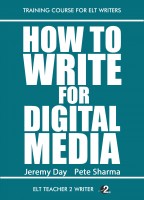 How To Write For Digital Media
by

Jeremy Day

&

Pete Sharma
The digital age is upon us and there's no going back! To quote Jeremy Day, one of the authors of this module, 'These are great times to be an ELT writer … if you can get your head round the challenges of writing for digital.' This module is designed to help you make the transition from print to digital.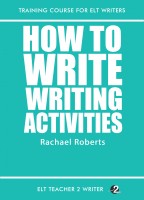 How To Write Writing Activities
by

Rachael Roberts
Rachael Roberts, experienced teacher and ELT writer, outlines the issues specific to creating writing activities. She describes a variety of tasks focusing on different aspects of writing and provides step-by-step instructions for analysing and writing a good model text. She then moves on to focus on the logical staging of activities and some considerations for writing for digital media.
Related Categories