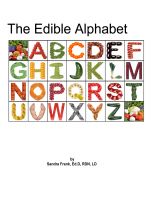 The Edible Alphabet
(5.00 from 1 review)
A unique way to teach the alphabet while introducing new foods. The graphic designs are made from foods representing each letter. Nutrition information is available for the highlighted foods. A visual design of MyPlate is included.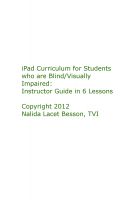 iPad Curriculum for Students who are Blind/Visually Impaired: Instructor Guide in 6 Lessons
This iPad curriculum with VoiceOver is geared toward upper elementary, middle and high school students. It can be adapted by breaking down the steps further and finding more appropriate research topics and apps for younger students. The lessons are planned for small group instruction but can be used for one-to-one instruction also. Lessons may be further divided for students who need more time.