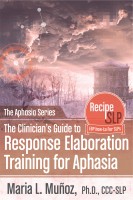 The Clinician's Guide To Response Elaboration Training for Aphasia
by

Maria Munoz
This Recipe SLP guide provides a step-by-step how-to for implementing Response Elaboration Training and Modified RET for individuals with aphasia. This evidence-based guide explains the theory behind RET, describes tips, modifications, and variations for implementation, briefly summarizes published findings on patient outcomes, and provides active links to online resources.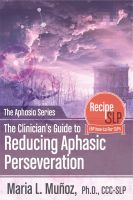 The Clinician's Guide to Reducing Aphasic Perseveration
by

Maria Munoz
Designed by the author, Reducing Aphasic Perseveration (RAP) is a treatment based on a theoretical understanding of lexical retrieval and perseveration. This guide to RAP provides step-by-step instructions for implementation, suggestions for cues and supports, and a variation for use with Spanish speakers. Though the evidence is anecdotal, the available theory and research are explained.