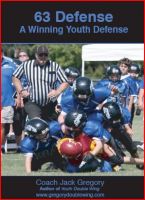 63 Defense: A Winning Youth Defense
by

Jack Gregory
(5.00 from 7 reviews)
The 63 Defense using both read and stack pressure concepts made famous by the 33 Stack Defense. It blends these concepts along with the zone coverage, Tampa cover 2 concepts, and aggressive 34 outside linebacker techniques to give you an aggressive defense that is fundamentally sound yet very simple to install. Coach Gregory goes into great detail about installation, practice, and adjustments.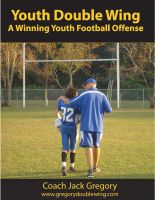 Youth Double Wing: A Winning Youth Offense
by

Jack Gregory
(5.00 from 2 reviews)
This book covers how to implement it, coach it, and utilize it with a variety of youth football teams. The system as been field tested for over ten years by not only the author but from coaches around the country who sing its praise. The system is simple, efficient, and effective while teaching the core fundamentals.
Related Categories