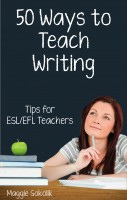 Fifty Ways to Teach Writing: Tips for ESL/EFL Teachers
by

Maggie Sokolik
Teaching English as a second or foreign language is full of challenges: How do you hold students' interest? How do you ensure that they get enough practice to really learn? This guide gives you a variety of drills, games, techniques, methods, and ideas to help your students master writing in English. For beginning to advanced levels; many tips require little to no preparation or special materials.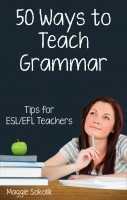 Fifty Ways to Teach Grammar: Tips for ESL/EFL Teachers
by

Maggie Sokolik
Many textbooks do a fine job of presenting grammar to students. However, some students or classes need more practice after they've finished the exercises in their textbook. This guide provides imaginative and enjoyable games, drills, and activities to practice different grammatical structures such as verb tenses, articles, phrasal verbs, relative clauses, modals, word forms, syntax, and more.
Related Categories