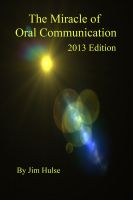 The Miracle of Oral Communication
by

Jim Hulse
(5.00 from 2 reviews)
The Miracle of Oral Communication is an easy to read book on public speaking in the digital age. Jim Hulse explains the formula for excellent speech making. He outlines the basic concepts on controlling speaker's anxiety, visual aids, stage presence and gaining audience acceptance. Nearly anyone can be a good public speaker if they follow the formula the author explains in this ebook.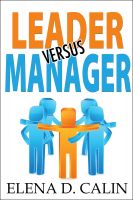 Leader versus Manager
by

Elena D. Calin
(5.00 from 2 reviews)
Over time, the word leader has acquired a great influence. People are reading thousands of books on leadership. They want to know why this attitude of a leader is so popular and why it is so desirable. This book is intended to be a parallel between a leader and a manager regarding differences and similarities of characteristics, behavior, intentions and beliefs.
Related Categories