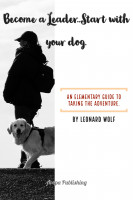 Become a Leader: Start with your Dog
by

Leonard Wolf
This is a simple but a meaningful guide to becoming a leader in life, starting with leading your dog. Whether you are interested in dog training, or daily leadership at work, or home, you will find in this guide precious information about to get more confidence in yourself during your path to become the leader that you want to be.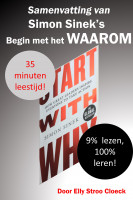 Samenvatting van Simon Sinek's Begin Met Het Waarom
by

Elly Stroo Cloeck
Efficiënte Nederlandstalige samenvatting die je in 35 minuten kunt lezen van de klassieker 'Start with Why'. Waarom zijn sommige mensen (zoals M.L. King) en organisaties (zoals Apple) inventiever, vooruitstrevender en succesvoller dan andere? En waarom zijn ze in staat om hun succes steeds weer te herhalen? Omdat het er bij het zakendoen niet om gaat wat je doet, het gaat erom Waarom je het doet.
Related Categories