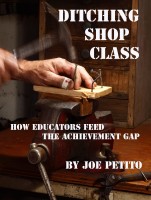 Ditching Shop Class: How Educators Feed the Achievement Gap
by

Joe Petito
Within public education, Shop Class, what we once called Vocational Education, has mostly been eliminated, but wonder why kids exit public school with no job-worthy skills. From the perspective of a STEM/CTE educator, a rationale for why we (educators) disposed of Technical/Vocational Ed and teaching of skills leading to middle class lifestyle, and how this feeds expansion of the Achievement Gap.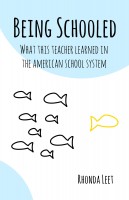 Being Schooled- What This Teacher Learned In The American School System
by

Rhonda Leet
Leet shares her twelve years of teaching journals giving readers an honest look inside her school and classroom. She had valid concerns including teachers leaving in droves and escalating behavior problems. This book may have readers looking in the mirror saying to themselves; how do I value a teacher, children, parenting and marriage? Get ready for a wave of emotions as you read her book!