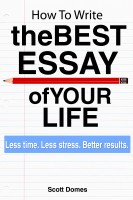 How to Write the Best Essay of Your Life
by

Scott Domes
How to Write the Best Essay of Your Life is a short guide to doing just that: getting the best grade on your paper, but with as little time and stress as possible. This concise guide for university students streamlines your essay-writing process from start-to-finish so you spend less time writing, while still achieving the grades you want. Your next essay will be the best of your life.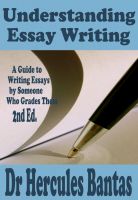 Understanding Essay Writing: A Guide To Writing Essays By Someone Who Grades Them
by

Hercules Bantas
A concise guide on how to write a good essay written by someone who has graded a heck of a lot of them. It contains essay writing strategies, helpful tips, and a step-by-step process guide. The second edition has a sample essay and extensive examples of pragraph structure and paraphrasing. Learn how to get the highest grade possible for your work and avoid the mistakes that so many students make.