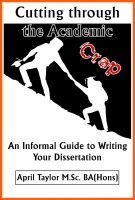 Cutting Through the Academic Crap
(5.00 from 2 reviews)
A short, no-nonsense, practical and informal guide for students dealing with the nitty-gritty of writing and presenting your dissertation for college or university.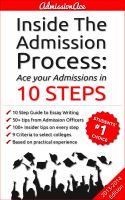 Inside the Admission Process: Ace your Admission in 10 Steps
(4.67 from 3 reviews)
The ultimate go-to guide for all students featuring insider tips, practical insight and a step by step guide to help you ace every part of the admission process. The latest edition includes 100+ Insider tips on every step, 50+ Tips from Admission Officers, 10 Step Guide to Essay Writing, 9 Criteria to select colleges 20 most likely interview questions, How to get 4 Types of Financial Aid and more!