From English Teacher to Learner Coach
by

Daniel Barber

&

Duncan Foord
Help your students get motivated, get organised and get practising! From English Teacher to Learner Coach is for EFL teachers who want successful students, not just successful lessons. More than ever, English learners have opportunities to become competent English users, but they need support to make the most of them. In other words, they need a coach. Give your teaching the coaching twist!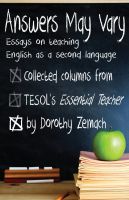 Answers May Vary: Essays on Teaching English as a Second Language
by

Dorothy Zemach
Twenty-five essays on teaching English as a second language by renowned ELT materials writer and teacher trainer Dorothy Zemach. The wide variety of topics include classroom management, testing and assessment, teaching reading strategies, coping with cheating and plagiarism, teaching visual learners, culture shock, the value of a non-native teacher, and recognizing and overcoming teacher burnout.