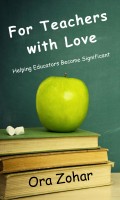 For Teachers With Love
by

Ora Zohar
For Teachers with Love: Helping Educators become Significant is a collection of educational wisdom that reflects the rich career of one of Israel's most beloved educators. For thirty years, between 1978 and 2008, Dr. Ora Zohar taught in the School of Education at Hebrew University in Jerusalem, where she founded and directed the National Center for Staff Development and the Principals' Center.
Educación: Más allá de las aulas
by

Edistio Cámere
Experiencias de un educador, que aborda un aspecto esencial en la vida humana, como es la educación. Responsabilidad docente; la relación profesor-alumno; la dirección del colegio ante la diversidad; la orientación educativa y la libertad y el vínculo familia-escuela, son algunos de los temas centrales desarrollados en este libro.
Related Categories