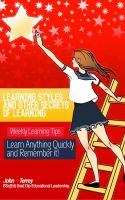 Learning Styles and Other Secrets of Learning. Weekly Learning Tips. Learn Anything Quickly and Remember it!
(5.00 from 1 review)
Your self-esteem and self-confidence will increase when you know how to use your learning style. Weekly Tips of the Secrets of Learning will guide you throughout the school year to achieve fantastic grades and have time for other things in life. Learn anything quickly and remember it!