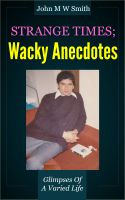 Strange Times; Wacky Anecdotes
by

John M W Smith
Over the past year I made a series of posts on my blog to relate incidents from my life so far. Encouraged by the interest that they aroused, I decided to compile them into a free ebook to reach even more readers and this, then, is the result of my efforts.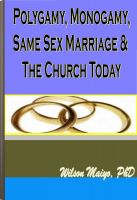 Polygamy, Monogamy, Same Sex Marriage & The Church Today
by

Will Anthony, Jr
This is a short over view on the marriage doctrine as perceived by men and women from all walks of life. The story looks at the conservative aspects of culture against the current perception of "the way of living". It dares the world to come to its own grip of control lest the human kind perish from its own rules and acceptances. Without condemnation, it looks at reality as it were from the past.