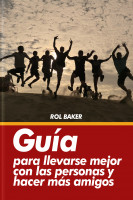 Guía para llevarse mejor con las personas y hacer más amigos.
by

Adam Kirk
El preguntarse cómo podemos hacer más amigos o mejorar nuestras relaciones ya existentes no es algo de lo cual sentirse avergonzado, el ser humano es un ente social por naturaleza, y no todo el mundo tiene una lengua de plata que cautiva todos los espacios (aun teniéndola podrías tener inseguridades acerca de esta). Además, todos tenemos ciertas aspiraciones que solo podremos alcanzar con buenas h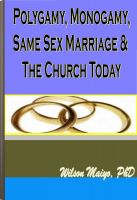 Polygamy, Monogamy, Same Sex Marriage & The Church Today
by

Will Anthony, Jr
This is a short over view on the marriage doctrine as perceived by men and women from all walks of life. The story looks at the conservative aspects of culture against the current perception of "the way of living". It dares the world to come to its own grip of control lest the human kind perish from its own rules and acceptances. Without condemnation, it looks at reality as it were from the past.