Love's Perfect Surrender
Thirty-eight year old ANTOINETTE LIBERO'S life is at a crossroad. Her plans for a family are shattered. Unable to bear children, her husband, VITO, plagued by disappointments, wants out, and is ready to ask for a divorce when she miraculously becomes pregnant. With renewed hope, Antoinette is determined to mend her faulty marriage to her husband. Will Vito be able to remain in the marriage?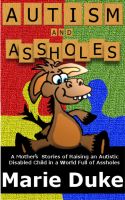 Autism and Assholes
A book of unfiltered truths about raising an autistic child in a world full of assholes. Autism and Assholes will make you laugh and cry as you follow a mother's true stories of being fed up with the world that surrounds her blind autistic child.