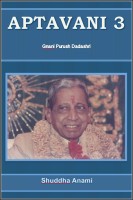 Aptavani 3 - Gnani Purush Dadashri
by

Shuddha Anami
Life is easy and blissful when one has the knowledge of the Self, and the knowledge of how to interact with others without causing pain to anyone. In Aptavani 3 Gnani Purush Dadashri reveals the science of the Soul in exact clarity, and then he reveals the science behind human bondage and the freedom from it. He energizes the reader to live life without any conflict, and thus be free for ever.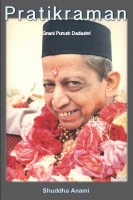 Pratikraman - Gnani Purush Dadashri
by

Shuddha Anami
Aggression and hurt to others through the mind, speech and body is the reason for all suffering of pain, mental or physical, suffered in this life. Such aggression is overt or subtle, it results in bondage. Reversal from this aggression is pratikraman, and It liberates. Gnani Purush Dadashri of the science of liberation- Akram Vignan, now gives Pratikraman which is amazingly easy and effective.