A Girl on a Bike
by

Susan Emmerich
(5.00 from 2 reviews)
Through riding and writing, she found her voice and retained her spirit. Sometimes serious, other times humorous, Ms. Emmerich invites the reader to ride along on a journey that includes adjusting to an empty nest, aging parents, divorce and again seeking love. This collection of essays encourages everyone to recognize their inner voice and follow where it leads.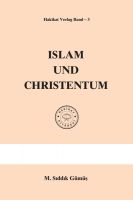 Islam Und Christentum
by

M. Sıddık Gümüş
(5.00 from 1 review)
In diesem Buch werden vorerst die himmlischen Religionen Judentum und Christentum, sowie der Islam, der die Gebote der vorigen Religionen ungültig machte, eingehend untersucht. Es wird eindeutig dargelegt, dass der heilge Koran das Wort ALLAHs, des Erhabenen ist.
Related Categories