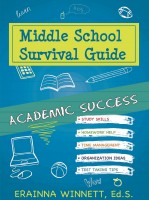 Middle School Survival Guide: Academic Success
by

Erainna Winnett, Ed.S.
Tweens have a hard time trying to figure out how to make it all happen in their lives. They are pulled in too many directions and feel like there are too many demands on their time. It can leave tweens and their families feeling helpless and hopeless. But there is a better way! This book will help any tween become more successful in school and at home while still finding time to just be a kid.