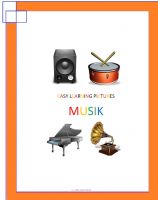 Easy Learning Pictures. Die Musik.
by

Jose Remigio Gomis Fuentes, Sr
English: Special version for eReaders. Pocket book with beautiful Flashcards child of musical instruments and common objects. Each flashcard contains a fun image of the object and its corresponding name in German. Ideal for any educational work, such as home, travel, etc..,. Fantastic full-color edition.
Related Categories