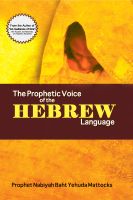 The Prophetic Voice of the Hebrew Language
by

Nabiyah Baht Yehuda
This is not your garden variety Hebrew education. You will be taken on a journey of intimacy with the Lord of Heaven. Prophet Nabiyah makes learning and understanding the Bible fun and shows the depth to which the word can really take you. This is a journey into the mind of Christ. Christians will really begin to understand the word of God on a deeper level. Bonus book surprise!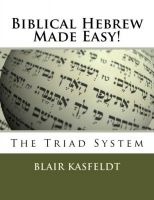 Biblical Hebrew Made Easy: The Triad System
by

Blair Kasfeldt
Master the Biblical Hebrew Verbal System — Quickly and Easily! Utilizing ancient memory principles, students of Biblical Hebrew will quickly learn: the verbal system, the seven stems of the Strong Verbs in Hebrew and much more!