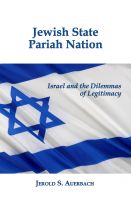 Jewish State, Pariah Nation: Israel and the Dilemmas of Legitimacy
by

Jerold S. Auerbach
Jewish statehood was restored in 1948 amid a struggle over legitimacy that has persisted in Israel. After the United Nations declared Zionism to be "a form of racism," Israel has confronted an escalating international assault on its legitimacy. In political, academic, media, and cultural circles it has been demonized as an "apartheid," even "Nazi," state that much of the world despises.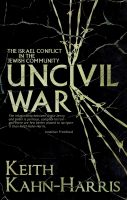 Uncivil War: The Israel Conflict in the Jewish Community
by

Keith Kahn-Harris
Diaspora Jews are no longer unified in their support for Israel. Aggression and hostility between Jews has broken out, especially over Palestine. The author analyses the secular and religious divisions in Britain and the USA, explores conflict resolution techniques and then describes his own innovative efforts at managing differences by organising encounters between dozens of Jewish leaders.