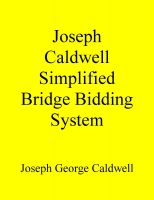 Joseph Caldwell Simplified Bridge Bidding System
This article presents a simplified natural bridge bidding system. It is intended to help new players quickly learn a basic bidding system that will enable them to proceed to play bridge without investing a lot of effort in learning a complicated bidding system involving many artificial bids and requiring the memorization of many bidding rules based on high-card points and suit lengths.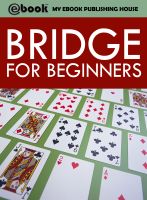 Bridge for Beginners
Bridge is the ultimate card game. It is truly a mind sport, as taxing on the brain as a decathlon is to the body. Bridge for Beginners is the ultimate introduction. Learn how to play bridge with this simple step-by-step guide. While good bridge classes are, of course, of great value, this book is itself the complete tutorial.