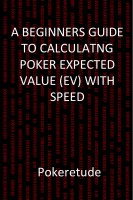 A Beginners Guide to Calculating Poker Expected Values (EV) with Speed
by

Pokeretude
Do you want to improve your poker? Improvement comes through ongoing practice of a specific technique. Tennis players practice their serve, musicians practice their scales, and now it's your turn to practice your poker skills in the same way. The aim of this eBook is to help you improve your ability to recognise your expected value at speed, which is the key to your long term profitability.
Insights from a Novice
by

R E Vick
Having thoughts about making your first trip ever to a live cash game of Texas Hold'em at your favorite casino? This short book will prepare you to make that journey with more confidence and knowledge as it details the terminologies, techniques, and procedures that will greet you at the table. It takes you through a hypothetical hand of 1-2 No-Limit Texas Hold'em with personal insights.
Related Categories