Crossword Puzzles by Ted. Volume One.
by

Ted Summerfield
78 pages containing 64 crossword puzzles. These graphic image crossword puzzles were never published in a newspaper but are now available as an inexpensive puzzle magazine ebook. A variety of shapes and difficulty provide you with hours of solving fun. Happy puzzling, Ted.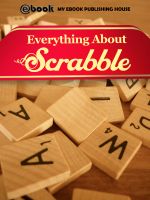 Everything About Scrabble
by

My Ebook Publishing House
First introduced to the public in the mid 1950s, Scrabble has gone on to be one of the biggest selling board games in history—and is currently gaining legions of new fans in the online world. Perhaps the fascination of SCRABBLE lies in the fact that the game combines just the right amount of luck with just the right amount of skill.